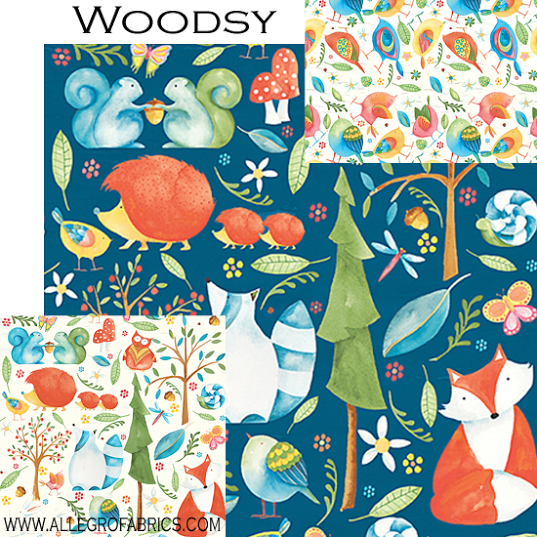 Whimsical woodland scene in unexpected colors! Bright and cheerful!
See Woodsy HERE or click on the picture.
KinKame comes in this white background or blue. Great beachy summer print for a bathing suit cover up or maxi skirt. Matches everything!
See Kinkame prints HERE or click on the picture.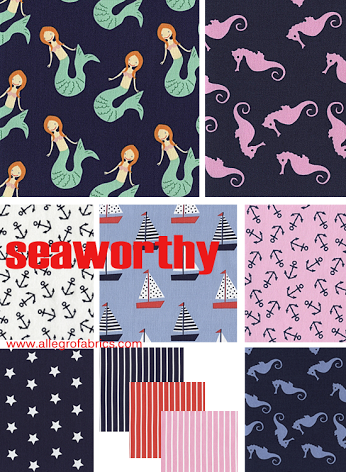 Back in stock! All time favorite themes in classic summer colors.
See the Seaworthy collection HERE or click on the picture.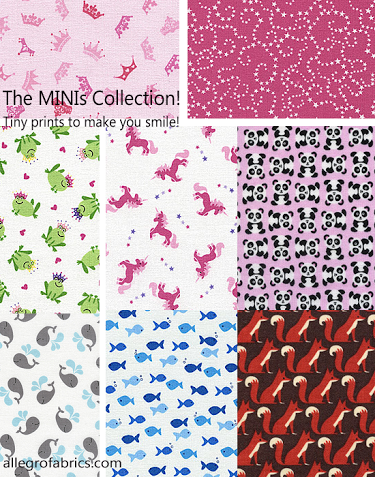 If you love small prints for doll and baby clothes, take a peek at the AllegroFabrics Mini collection HERE or click on the picture.
Cats! Brand new collection that features some birds and mice along with the very sassy cats. This is a smaller print and will work well for doll clothes, too! See it HERE
Four new Princess prints just arrived from Michael Miller. These compliment their polka dots and stripes, also in stock! See the collection HERE.
Great for sewing shorts and tops and summer dresses. In three great colors and a matching floral. Add a splash of pink and this will really pop! See it HERE.
Remember to use this code at checkout for a 10% discount on your total order:
Amazing combination of modern meets vintage fabrics featuring hot air balloons and shimmer gold polka dots paired with the very vogue Marissa pattern by Sis Boom to create the most beautiful combination for the newest AllegroFabrics sewing kit. Designer fabrics made of 100% cotton, carefully chosen to mix and match with details to add interest and make this a one of a kind special Spring and Summer dress for your little one. Sizes 6 mo-12 years.

See just the Marissa pattern HERE.
This show stopping, ruffle dress is an obvious choice for every occasion. A playfully girly design helps you to create the perfect dress for that special occasion in no time at all!
Glittery pony fabric sparkles! Unicorns, princess tiaras and all her favorite colors make this a fabulous dress for fun summer events!
See Glitter Pony Blanche's Dress Sewing Kit HERE or click on the picture.
See just the Blanche pattern HERE.
Little Lizard King Fancy Pants Ruffled Diaper Cover Girls Sewing Paper Pattern Sizes 0 - 24 months.
This diaper cover sewing pattern will teach you to make an absolutely adorable, boutique product without boutique prices. Fancy Pants are a perfect baby gift and is ideal when coupled with a pinafore pattern.
See it HERE
or click on the picture.
Brand new ...The Katy Pattern from Create Kids Couture and the French Lessons fabric collection from Dear Stella...
Whimsical Eiffel Tower Paris fabric...perfect for little girls, complete with bikes, balloons, a well dressed dog, the Arch de Triomphe and Macaroons...and a vintage Citroen!
Double layered halter dress (or straps crossed in the back). Navy leggings are on another listing..perfect for spring playground wear. Use the scraps to make one for her American Girl doll!
See Katy's French Lessons Sewing Kit and the fabric collection HERE or click on the picture.
***All Olabelhe Paper Patterns on sale $8.00 each!
That's a 50% savings...these are the last of the paper patterns from this designer. Grab them now!
Olabelhe patterns have classic and timeless styling.
Click HERE or on the picture to see the dozens of styles available.
This one is called Olabelhe Meg
.
Sweet Baby Jane Romper for summer!
The must-have item for summer in any little bitty girl's wardrobe is an adorable sun suit!! Sun suits are the ticket this summer and this one is just about the cutest thing out there!!!
It features a really full body, with elastic across the back, criss-crossed straps, lots of cute ruffles on the bum, and a darling bow tied in the front!!

This pattern is sized Newborn-4T.
See this PDF pattern HERE or click on the picture.

**********************************************
Over 250 items now on SALE!
from

$4.00-$8.50

per yard.
AllegroFabrics Website is HERE
Here is the 10% off Discount Code
Use it at checkout!

You are receiving this email because
1.) You're an awesome customer of "Allegro Fabrics & DigiPatterns" or
2.) You subscribed via our website


Want to be removed? No problem, click the "unsubscribe"
below. Thanks for shopping Allegro!